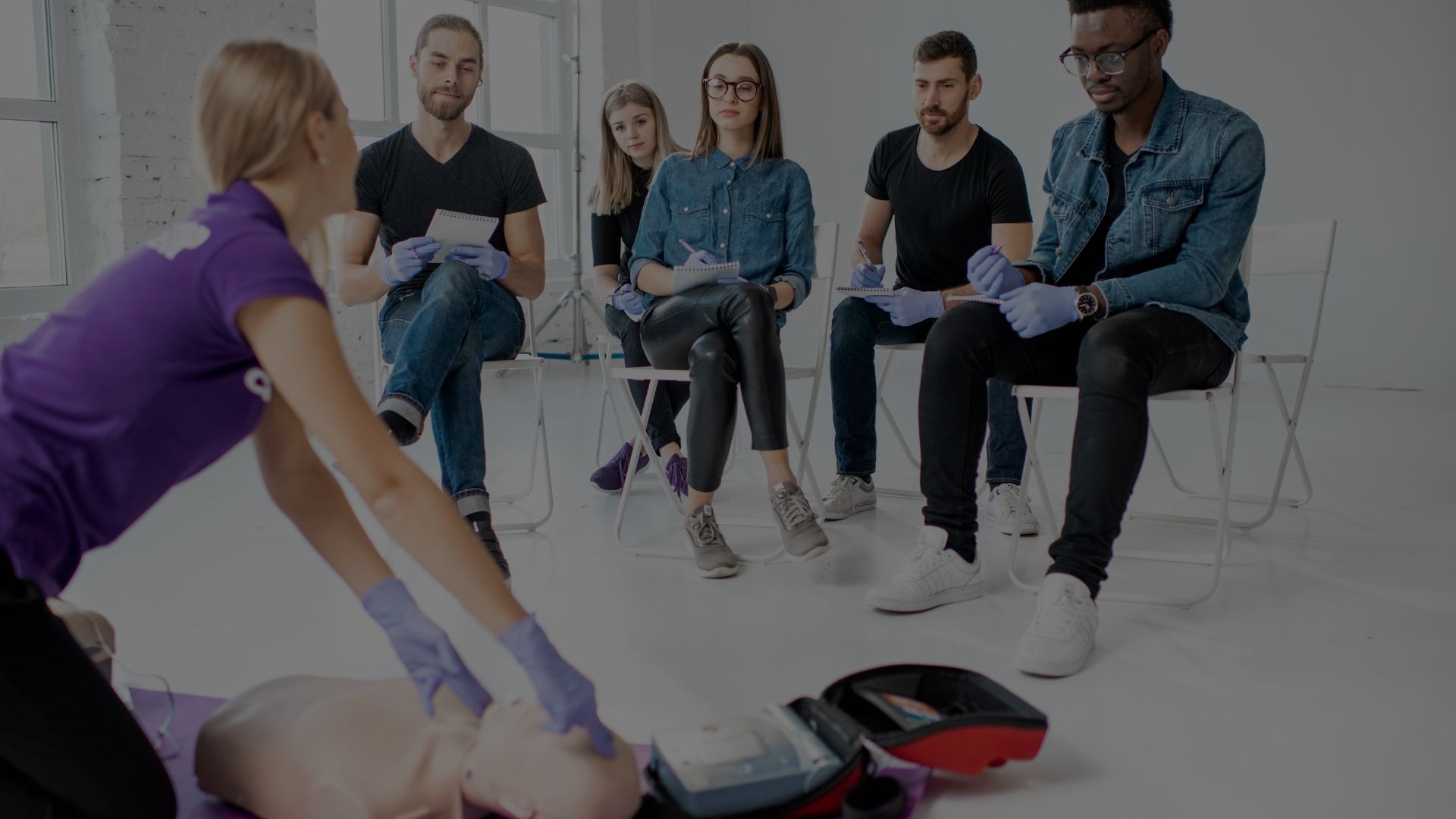 Let's take a deep dive into why a CPR Certificate is important for in-home care and adult senior living facilities. Quality of care is a top priority when considering different senior living facilities or in-home care for our elderly. They raised and assisted us while we were young, and now it is our turn to pay them back with the best care possible.
However, you can only become a fully-trained professional in a residential care facility with a CPR certificate. CPR certificates are crucial for this job because the elderly are quite vulnerable and sensitive.
Let's take a quick look at why you should have a CPR certificate if working in residential care or a nursing home facility.
CPR Certificate: A Certificate That Saves Lives
We can see the importance of CPR certification in in-home care and adult senior living facilities from many angles. Naturally, the elderly are more vulnerable and more likely to experience a heart attack or similar emergency.
Moreover, aging can be a complicated and painful process. It can cause a decline in lung capacity, weaken the diaphragm, reduce airway elasticity, and much more.
The aging process is also related to the increased risk of choking. This happens because of different reasons: difficulty maintaining posture and positioning, tooth loss, poor dental status, etc.
These are just some reasons a person working in healthcare or senior living facilities should acquire a CPR certificate. The aging process and its characteristics increase the risk of emergencies where proper CPR is needed. Thus the CPR certificate is essential for giving proper long-term care to seniors.
CPR Certificates: The Benefits for Residents and Certified Facilities
Across the US, many issuing bodies and organizations provide CPR certification for long-term care facilities. It doesn't matter what type of long-term care facility it is (assisted living, home health care, or skilled nursing).
The life-saving benefits of CPR certificates for residents are:
Healthier and happier living services;
Trust in the facility and confidence that it complies with AHA's (American Heart Association's) guidelines;
Assurance that the facility meets the geriatric and cardiac criteria set by AHA experts;
Living more quietly, peacefully, and productively.
The benefits of CPR certificates for the facilities:
Mitigating and minimizing the risk of emergencies;
Proper risk management;
Regulatory compliance with the mandatory certification guidelines;
Keeping up with AHA's periodical renewal of guidelines to benefit residents;
Assuring the facility is recognized by AHA and relevant authorities;
Improving public image and credibility.
Acquiring CPR certificates from these organizations and issuing bodies is essential because of the specific requirements of the CPR procedure for the elderly. In other words, the procedure for the elderly is specific and, if not done correctly, can do more harm than good. There are many risks as well as complications that can occur during or after the procedure.
The Specific CPR Procedure for Elderly and Senior Citizens
The CPR procedure for adults is quite similar to the one for seniors. The exact way to perform it is to give a combination of chest compressions and rescue breaths. The usual compression-ventilation ratio is 30:2 (two breaths for every thirty compressions). You should also give a standard number of compressions per minute (100-120).
However, adults and the elderly might need CPR for different reasons. For example, seniors can easily suffer internal bleeding, sudden heart attacks, lung bruising, airway damage, and much more.
Each of these situations can put forth the need for a CPR procedure. Nonetheless, in the specific characteristics of each of these situations, we can see the importance of CPR certification in in-home care and adult senior living facilities.
A CPR-certified professional working in long-term care or a nursing home will require additional info before deciding to perform the procedure on a senior citizen. These professionals usually keep a list of medical information that is easily accessible in the case of an emergency.
CPR-certified staff working in these facilities usually keeps a list of the following information:
Present medical conditions;
Allergies;
Previous or upcoming surgeries;
Medical provider contact info;
Active medication list;
DNR (Do not resuscitate) if needed, and more.
All this info is crucial for the effective and timely performance of the CPR procedure on a senior citizen. When the CPR-certified healthcare provider knows this info, they can easily avoid all actions and situations that might increase the risk.
Where & How To Get A CPR Certification For In-home Care and Adult Senior Living Facilities
Numerous organizations across the United States provide CPR certification services. The two most notable ones are the American Heart Society (AHA) and the American Red Cross.
Furthermore, there are certification bodies all across the country. Each state, for instance, has several organizations issuing CPR certificates.
Depending on the type of employees working in the nursing home or the long-term care facility, you can register for different CPR courses. Some of the more important ones are:
BLS (Basic Life Support), CPR, and AED (Automated External Defibrillator) Courses for Healthcare professionals;
Training for ACLS (Advanced Cardiovascular Life Support);
Nurse assistant or CNA training, and more.
On the other hand, depending on your professional engagement or the type of staff training you need for your facility, you can get CPR certificates for nurses, doctors, EMSs, and more.
The classes are usually divided into online, in-person, and combined. Depending on the type of employee or the type of certificate you want to acquire, you'll have to register, apply, and pay for the course. Once you or your employees pass the exam, the certificate is issued.
However, in-home care and adult senior living facilities shouldn't forget that these certificates, as any other, must be renewed approximately every two years. This is due to the changes in government policies, AHA guidelines, and other factors. Recertification is compulsory!
The Risks of Giving CPR to Elders
There are many risks to giving CPR to senior citizens in nursing homes or long-term care facilities. Even though the CPR survival rate in nursing homes is higher than the survival rate among community-dwelling seniors, the risks can be fatal.
A CPR-certified healthcare worker will know how to recognize and mitigate all the risks related to the procedure given to a senior to ensure their safety. The most frequent and fatal risks of the procedure are:
Broken ribs – One study found that 13-97% of people experience incident rib fractures after cardiopulmonary resuscitation. This is even truer for elders, especially older women. In-home care and adult senior living facility employees have to be very careful when performing cardiopulmonary resuscitation on a senior.
Lung collapse – A recent study found that 1 in 5 cardiopulmonary resuscitation attempts ended with sternal fractures. Moreover, costal fractures also occurred and caused serious lung injuries, such as pneumothorax, haemothorax, and contusions. The risk of lung collapse is amplified when performing CPR on elders, and certified professionals know this quite well.
Sore chest – The most frequent side effect of performing cardiopulmonary resuscitation on a senior person.
These are all risks that can occur during or after the procedure. The importance of the certificate is to provide healthcare workers with the ability to recognize, avoid, or prevent some of the risks we've mentioned.
What We Learned About Why a CPR Certificate is Important for In-home Care and Adult Senior Living Facilities
Every in-home care and the adult senior living facility should confirm its employees possess CPR certification to reduce liability risks and provide customers with high-quality care. Moreover, the certificate is crucial for recognizing potential procedure risks and providing a systematic and timely emergency response.
There are many legitimate institutions offering them, and you can apply and acquire your certificate in any particular state. On top of that, there are different certificates, including various techniques and guidelines for performing the procedure on senior persons.