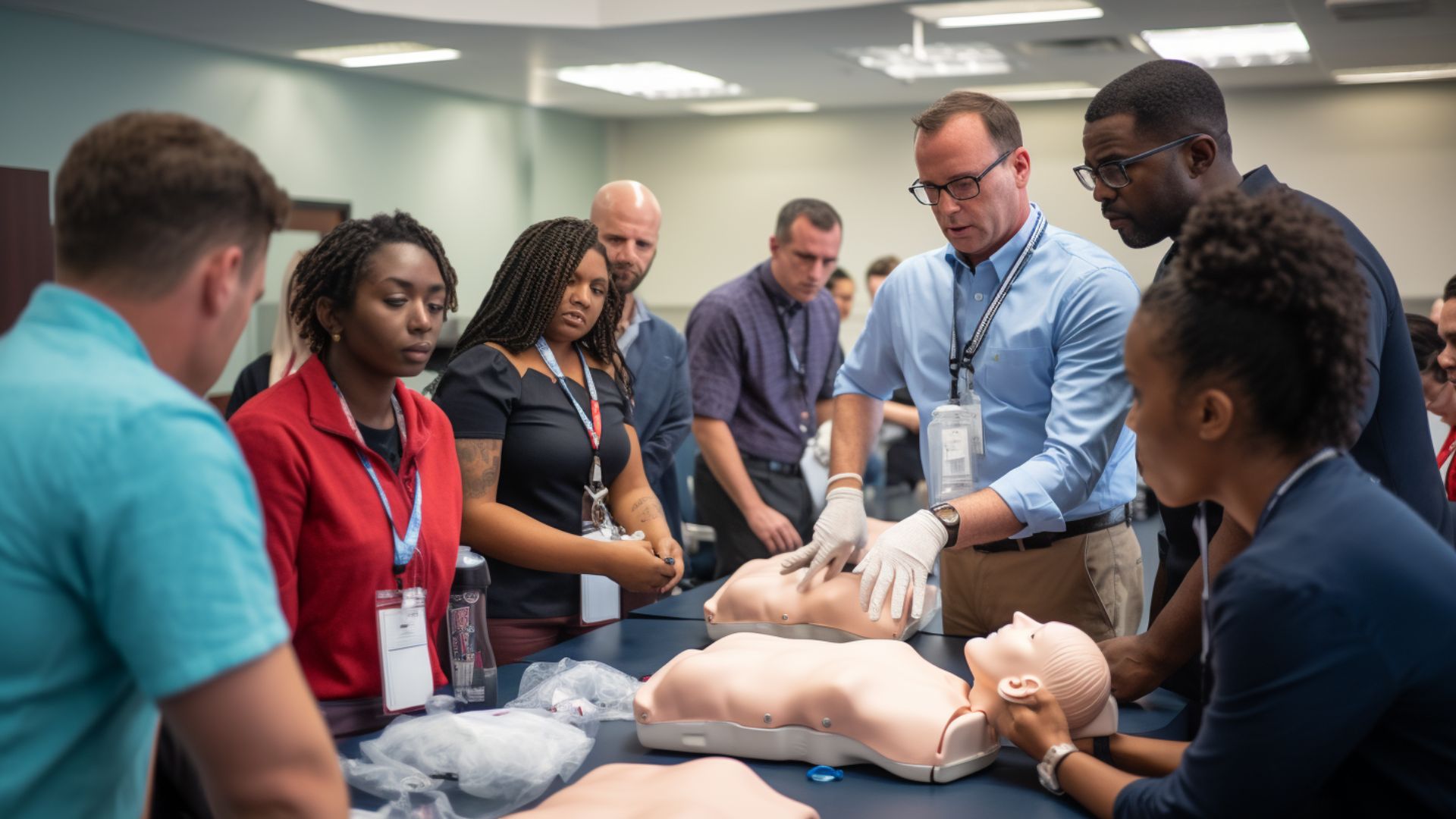 Communities across the United States are coming together and recognizing the importance of saving lives, with more people wanting to learn first aid and CPR. The success rates of bystander CPR have convinced many states to educate as many citizens as possible on the benefits of CPR.
California has launched a campaign aiming to educate people on hands-only CPR. The goal is to train 500,000 LA residents in hands-only CPR by the end of 2023. Such campaigns raise public awareness and motivate people to take action during emergencies.
That is only one of the CPR initiatives uniting Los Angeles, CA, and the first step on the road to saving lives together.
What is the Purpose of Such CPR Initiatives
The purpose of CPR initiatives is to raise public awareness and unite communities. Saving lives together is the ultimate goal. When more people are CPR-trained and educated, more lives are saved.
California is the most populated and diverse state in the US, with over 39 million citizens. Educating people from every background and demographic brings the need for CPR to the forefront, which can result in saving millions of lives.
The ultimate goal is to empower every citizen of California and the entire US to never hesitate to help those around them.
Providing Underserved Communities with the Right Tools
CPR initiatives also help educate underserved communities on the basics of CPR and encourage them to call 911. Hands-only CPR decreases hesitation to provide aid and increases the rates of bystander-administered CPR in underserved communities. Providing accessible resources can increase SCA survival rates in such communities.
Importance of CPR Education
The most common medical emergency that requires CPR is sudden cardiac arrest. Over 356,000 people per year experience out-of-hospital cardiac arrest. Almost 90% of those cases are fatal.
In Southern California alone, statistics show 14,500 out-of-hospital SCA cases annually, and only 1,500 of these victims survive. Unfortunately, these numbers include only victims kept alive long enough to be treated by Emergency Medical Services. This shows that providing immediate CPR to the victim can double their chances of survival.
Raising Awareness
Certain communities and demographics are at greater risk of SCA, but generally, SCA can happen to anyone. Most victims don't suspect anything because they are in peak physical condition, and there may be no warning signs.
There are also environmental factors that can cause an increase in SCAs. Research showed that the California wildfires contributed to the increase in SCA victims. The most impacted communities were those of lower socioeconomic standing. Those are the communities where bystander CPR is least likely to occur.
Another group lacking CPR aid is women. Research shows that women are less likely to receive CPR aid than men. One of the provided reasons is fear that the participant might get accused of inappropriate contact with the victim.
In all cases of SCA, only 6 in 10 bystanders are confident enough to perform CPR.
Factors Associated With Unwillingness to Give CPR
There are many reasons why people hesitate to administer CPR during a medical emergency.
Inability to Recognize the Symptoms
Many people are unable to determine when CPR is needed, while others confuse the symptoms of SCA with fainting or epilepsy. They get confused and are slow to react.
Lack of Information
Some cite a lack of knowledge or training in proper CPR techniques. They are unaware that immediately calling 911 and starting hands-only CPR can have an impact.
Fear of Further Injury and Legal Repercussions
Another reason is possibly inflicting further injuries on the victim during CPR. Sometimes, injuries like bruising and cracked ribs are common when receiving CPR. Rescuers need to remember that there are laws that protect good samaritans who act in good faith.
The common thread in all of these cases is a lack of education on CPR. That is why CPR initiatives and education are essential to empower communities.
How Communities Are Saving Lives Together
CPR campaigns are raising awareness about CPR education all across the globe. These campaigns have reached almost 2.6 million people worldwide, and over 1.5 million of them are trained to provide CPR.
In the US, the American Heart Association set a goal to train 20 million people and increase the rate of bystander CPR to 61%. The Red Cross in Los Angeles used the National CPR/AED Awareness Week to encourage all citizens to get CPR training. At the same time, implementing the Los Angeles Tiered Dispatch System has prompted higher bystander CPR rates.
There are numerous other CPR initiatives uniting Los Angeles, CA. All saving lives together awareness campaigns proved to be effective as many communities are learning to help each other.
Who Should Attend CPR Training?
CPR training and certification are for everyone. With 73.4% out-of-hospital cardiac arrests and other breathing emergencies occurring at home, the chances of resuscitating someone you know are pretty high. Many professions also require mandatory CPR certification.
All medical professionals must have CPR certification to comply with OSHA standards. That also applies to nursing home employees, RNs, and CNAs.
Considering that children are involved, schools require their teachers, coaches, counselors, and other personnel to be CPR certified. Most schools today even included CPR education in the curriculum.
Workers in direct contact with other people, like lifeguards, firefighters, police officers, flight attendants, and nannies, must have CPR certifications.
Many other industries and organizations are investing in CPR and first aid training. Their employees need training in CPR and first aid in case of workplace accidents.
Where Can People Get CPR Training?
CPR initiatives across California make accessing CPR education easy for people from different communities. Most of these presentations are free and teach basic CPR. This helps participants feel confident in their CPR skills and encourages them not to hesitate during medical emergencies.
To learn high-quality life-saving techniques used in any emergency or to get certification for work, it's best to enroll in a CPR course. For CPR certification in Los Angeles, California, find a licensed provider offering courses following the American Heart Association or Red Cross guidelines.
Choose Your Class
Find what kind of classes are offered, and choose the one that best suits your needs. Once you've decided, search for in-person classes in your area.
CPR classes in Los Angeles will equip you with the essential skills to save a life. In these classes, you'll learn how to:
Stay calm and collected during an emergency
Give hands-on chest compressions
Apply these skills to infants, children, and adults
Administer BLS to infants, children, and adults
CPR and first aid classes in Los Angeles will offer the necessary skills to react in any medical emergency. You can apply this knowledge to situations like SCA, natural disasters, drownings, and other emergencies. In addition to the skills listed above, you will also learn how to:
Handle allergic reactions and use an EPI pen
Give rescue breaths after drowning
Spot signs of a stroke or heart attack
Choosing the right CPR class with a reputable and licensed training center provides many advantages.
Sign Up and Attend Classes
Sign-up is easy. Once you choose a CPR class, all that you need to do is select a date and register online. Keep in mind that CPR certification classes must be attended in person.
Depending on the type of class, they usually last about 3 hours. During classes, participants will receive essential training from highly qualified trainers. Realistic mannequins are used to put practical skills to use.
After completing the course, participants will have to pass a test. The test consists of a practical portion and a written test. Participants will receive their CPR certification on the same day once they have demonstrated their practical skills and theoretical knowledge.
Renew Your Certification
You must renew your CPR certification every two years to comply with OSHA regulations. Recertification is also highly recommended for those who want to keep their CPR knowledge and practical skills up-to-date.
CPR classes in Los Angeles are designed for initial certification and recertification.
Saving Lives Together: To Summarise
The goal of CPR initiatives in Los Angeles, CA, is to bring communities together and make them safer. Saving lives is a group effort, and everyone has a part to play. Encouraging citizens to get CPR certification in Los Angeles builds a strong community where members are always ready to help each other.
CPR certifications give bystanders the know-how and confidence to react in any emergency and give every LA resident the power to save a life.